What are the normal business hours of restaurants, banks and stores in the US?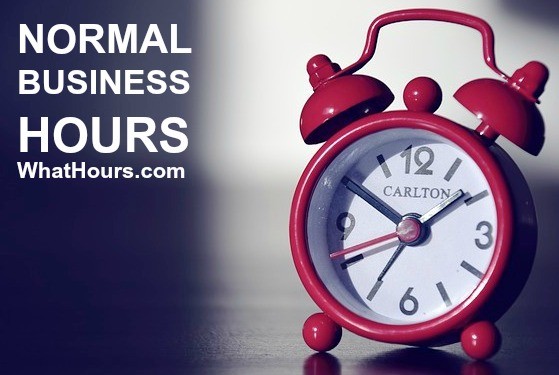 What are the normal business hours of restaurants, banks and stores in the USA?
The normal business hours for restaurants in the USA are from 6:00 am to 10:00 pm (Monday-Saturday).
Most restaurants which offer menus for breakfast, brunch, lunch and dinner typically remain opened throughout the most part of the weekdays.
As for Sundays, the operating hours of restaurants vary across America.
Many restaurants remain closed on Sunday. However, one of the restaurants that are open on Sundays is KFC.
KFC's business hours are from 10:30 am to 11:00 pm (Monday-Sunday). McDonalds, on the other hand, open as early as 5:30 am and close around 11:00 pm. This is due to the fact that their breakfast menu is loved by so many, and people start showing up at the joint very early because they have to leave for work from there.
Although the typical business hours of the restaurants are stated above, there might be a difference in timings across states or cities because of the customer traffic and/or other reasons.
Chic-fil-A's operating hours start at 6:00 am and they close at 10:00 pm.
Unlike KFC and McDonalds, Chic-fil-A is closed on Sundays.
In the field of food and dining, the business hours are very long.
Any businessperson who is opting to enter into this industry first needs to come at peace with the stretched hours of operation.
What are the standard holiday business hours
This brings us to the business hours of restaurants on holidays. As stated earlier, most restaurants serve their customers all the 365 days of the year.
The majority of them operate according to the normal business hours even on Christmas and Black Friday. Labor Day is considered a day off by many restaurants, for example, Chic-fil-A is closed on Labor Day.
Dunkin' Donuts are famous for their early morning coffee, donuts, and other breakfast items. So they start even earlier than most chains, opening their joints at 5:00 in the morning and closing at 10:00 pm.
It is important to keep in mind that although most joints of the same restaurant chain tend to operate on similar business hours, hours of different locations can vary according to the demographics of that area.
As compare to the business hours of restaurants, banks in America tend to close fairly earlier. Most banks' opening hours are from 9:00 am to 5:00 pm.
Key Bank's branches are open for customers from 9:00 am to 5:00 pm on weekdays, with the exception of remaining open on Fridays for an extra hour, i.e. till 6:00 pm.
Banks usually have extended business hours on Fridays, because of the increased volume of customers and their transactions as a result of the weekend ahead.
As for Bank of America, their hours of operation are from 9:00 am to 4:00 pm on weekdays (Monday-Friday). PNC Bank, on the other hand, has a business-hours schedule similar to that of the Key Bank, i.e. the customers can walk in anytime between 9:00 am and 5:00 pm.
As opposed to the operating hours of restaurants, all banks in the US or even any other place in the world tend to remain closed.
Nonetheless, banks do open on Saturdays. But the business hours on a Saturday are shorter than the weekdays.
Most banks open on Saturday at 9:00 pm and close as early as around 1:00 pm, with the exception of some, such as the Bank of America, closing even earlier at 12:00 pm.
As for the holidays, all banks remain closed on New Year's Day, Labor Day, Columbus Day, Memorial Day, President's Day, Independence Day, Christmas Day, Thanksgiving Day, Easter Sunday and the Veteran's Day.
On holidays other than these, banks are open on Black Friday, Mother's Day, Christmas Eve, Cinco de Mayo, St. Patrick's Day, Easter Monday, Tax Day, Good Friday, Valentine's Day, Mardi Gas and Father's Day.
Having talked about the operating hours of restaurants and banks, we come to the supermarkets and stores' hours of operations.
Talking about the clothing industry's giant Old Navy, it has hundreds of locations in the North America and most of them remain open their doors at 10:00 am and close for customers at 9:00 pm. On Saturdays, Old Navy stores tend to open an hour earlier than usual, at 9:00 am and close around 9:00 pm.
Business hours on Sundays are usually shorter, and Old Navy remains open on Sundays from 11:00 am till 7:00 pm (hours may vary as per location).
Walmart's business hours are longer than other smaller stores, and they open as early as 8:00 am and keep open till 10:00 pm.
These Walmart business hours are same for all days of the week.
A notable fact here is that these are customer service hours of Walmart meaning that you can buy or have an item replaced anytime during these hours.
Another store that we will include here is Petco. Petco is a giant among pet stores in the US.
They operate on a twelve-hour based schedule. They have a little less than 1500 locations across the USA all of which open as early as 9:00 am and close at 9:00 pm (Monday to Saturday).
On Sundays, the store will open a little later than usual i.e. on 10:00 am and will continue to remain open until seven in the evening.
All of the information above is subject to change in the hours of operations any time in the future.
If you are in the USA, it is highly unlikely that you will not find any restaurant within your premises when you are hungry.
Even for those who have late night munchies, there are more than a few chains which operate 24 hours a day.
Some of the honorable mentions in the 24/7 category are Steak in Shake, McDonalds (Yes! McDonalds do have some locations that operate 24/7), Jack in the box, Perkins, Whataburger, Denny's and Waffle House, etc.
This article was written by What Hours.
Related article: What fast food restaurants are open near me now